The largest music festival in Northern Europe
Many young people in Europe know the Roskilde Festival without knowing anything about the town of Roskilde.
Every year in July 170 bands play for around 80.000 visitors in Roskilde. Even though Roskilde is among the oldest is rock festivals of the World, Roskilde is well known for constant development presenting a mix of well establish music names and new talents.
In 2007 the festival presented:
Beastie Boys, Björk, Muse, Queens of the Stone Age, Red Hot Chili Peppers, Tiësto, The Who
and about 160 other bands.
The Roskilde Festival is run by the non profit organization The Roskilde Festival Society. The profit from the festival is donated to humanitarian and cultural purposes. Until known the society has given donated 11 million Euro to War Victims in Iraq, Doctors Without Borders, Amnesty International, Save the Children, World Wildlife Fund (WWF) and many, many others purposes.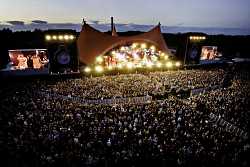 A light summer night with thousands of young people in front of the Canoby Scene. Photo: Roskilde Festival
The first Roskilde Festival took place in 1971. It was arranged by two high school students from the town of Roskilde. Still today a great part of the population of Roskilde take part in the festival. Many local non profit organizations ensure income by cooking, selling organizing part of the festival. All in all 20.000 volunteers are engaged in the Roskilde Festival
Read more about the Roskilde Festival