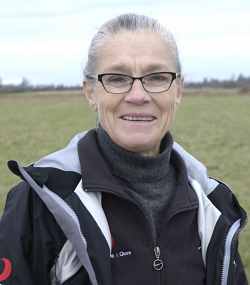 The lord mayor of Copenhagen Ritt Bjerregaard
The lord mayor of Copenhagen, Ritt Bjerregaard, has suggested that the city of Copenhagen applies for hosting the World Expo 2020.
The great World Expo's are held every five years and still it is not decided who should host the Expo in 2020.
Ritt Bjerregaard has now invited the Danish prime minister Anders Fogh Rasmussen and the Minister for Economic and Business Affairs Bendt Bendtsen to discuss the possibility of an Expo in Copenhagen.
For some time it has been discussed in the Danish public if Copenhagen should apply for hosting the Olympic Games but the lord mayor now says that she sees more interesting perspectives in hosting a World Expo.
Copenhagen is developing fast at the moment and is expected to do the same in the coming years. In the future the city is planned to be enlarged closer to the harbour and the open sea. Ritt Bjerregaard hopes that an Expo in Copenhagen will strength the Øresund area - including Malmö and southern Sweden.
Ritt Bjerregaard sees the Expo in Copenhagen as a tool to improve Copenhagen making the city more sustainable and make Copenhagen an even more attractive city.
- A World Expo will be the target in the horizon that can force us to be better, more talented and hard-working, Ritt Bjerregaard says.
Recently the international magaziine Monocle appointed Copenhagen to be the best city in the World to live in and Ritt Bjerregaard takes that as another argument to show that Copenhagen is qualified to host an Expo in the future,
At the moment Copenhagen prepares for hosting the UN Climate Conference in 2009. The same year the coming Expo will take place in Shanghai in China. In 2015 the city of Milan in Italy is hosting the World Expo.