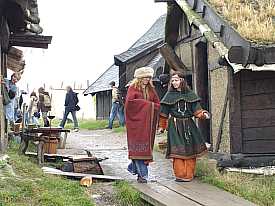 When Foteviken is populated it is easy to feel sent a thousand years back in time
Hardly any other place in Scandinavia it is possible to be so close to the original atmosphere in the Viking age as in Foteviken Viking Reserve in the South of Sweden.
The area is not urbanized with museum construction but grown in an almost organic way like villages did before city planning became modern. In the season when the houses are inhabited there is a special atmosphere of history and cultural heritage.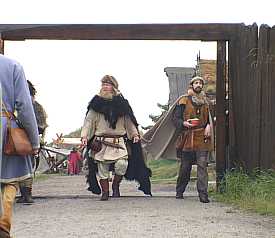 To enter the reserve you need to pass the opening of the palisade
Foteviken consist of 22 Viking and middle age houses surrounded by a bank. The main part are the sort of town houses known from Haiti and other places.
They are build as a cooperation with private people who had influence on the interior and also use the houses as a sort of holyday houses. The citizens are organized in the Village Community and have the feeling of being citizens of Foteviken. So it is not unfair for Foteviken to call itself the only still existing Viking reservation.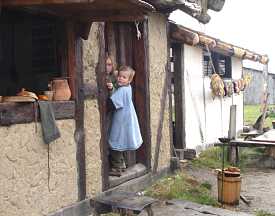 The houses are occupied by people who often has also been involved in building them and for whom Foteviken has become a part of their life
Apart from the reservation Foteviken also includes a sort of museum about Viking age. Even though Sweden has a lot of Viking finds and history the South of the country is primary connected to Danish Viking history. Foteviken is placed where Harold Bluetooth is assumed to have a winter harbour and the place is close to the town of Trelleborg which is well-known for its circular fortress of almost the same kind as the Danish Trelleborg and Fyrkat. Further North a similar fortress has been found in Borgeby near the city of Lund.
Every year Foteviken arranges a great Viking market. It attracts Vikings from many countries. Apart from Scandinavia Vikings from about 15 countries come here, among them Germany, Poland and Russia.
Practical information
Both the Viking Reserve and the museum can be seen on working days all year round.
The museum is not a traditional museum. Rather an exhibition of things that is used in the archaeological work. If you come outside the season it might be a good idea to ensure that someone is there to explain what you see.
The reserve is most interesting in the summer season when there is activities and people living in the houses. On the other hand in low season it is free to take a walk in the reservation.
Fotevikens Vikingareservat and Fotevikens Museum
Museivägen 24
S-236 22 Höllviken
Sweden
tel. (+46) (0)40-330 800