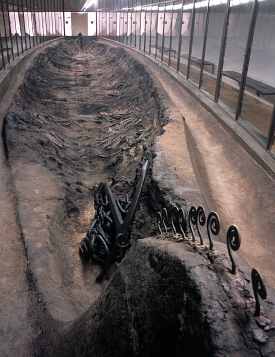 The remains of the 22 meter long warship in it´s subterrainian glass sarcophagus. Note the anchor, which is entirely identical to the anchors of today. Photo: Eigil Nikolajsen.
An ongoing Danish debate on whether or not it should be legal to place candles or Christmas decorations in churchyards, would be very difficult to understand for a Viking. If a person was prominent, there was no end to the effort put into designing his grave, and how well provided for he would be in the afterlife. The Museum by the Kerteminde fjord is an excellent example of this.
No doubt, the deceased was a man of importance. His 22 meter long warship served as coffin for him and his gravegoods. With him in the ship were found 11 horses, several dogs, and a wealth of weapons, jewellery, clothes, and even a boardgame to pass the time.
Descriptions of the Viking Age reveal that a dead man could be accompanied by a thrall. In Ladby, however, no remains of humans were found. Examinations indicate that the corpse and the most costly artefacts were removed from the grave shortly after the quite elaborate burial ceremony. Perhaps grave robbers plundered the site, but it may also have been decendants who had converted to Christianity, and who wanted to give their deceased relative a church burial.
The Ladby ship is the only recognized ship burial in Denmark. The ship itself is almost totally gone, but it´s print in the underground remains in a glass sarcophagus, protecting it. The ship was reconstructed as early as 1963 - the Imme Gram - but a recent Ph.D-thesis has generated new knowledge on the actual appearence of the ship by using computer processing. Several people and organizations are currently considering the possibilities of building a reconstruction - among whom is the Museum of Kerteminde itself.
Latest a private maritime research centre has build a Viking ship which - although it is not a reconstruction - is inspired by the design of the Ladby Ship.
Ladbyskibets Museum
Vikingevej 123
5300 Kerteminde
tlf. 65 32 16 67
Homepage www.kert-mus.dk/ladbyskibet/dk/main.html
The museum is placed in short distance from the town of Kerteminde on the East coast of Fyn - 20 kilometers from Odense.
Opening hours:
March - May: 10.00 – 16.00 Monday closed
June - August: 10.00 – 17.00
September - October: 10.00 – 16.00 Monday closed
November: 11.00 – 15.00 Monday and Tuesday closed
The museum is closed in December, January and February
The Ladby Ship Museum is an administrative part of Kerteminde Museum.