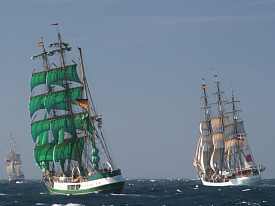 Alexander von Humboldt (left) and Danmark (right) are among the Ships in Aarhus in July.
Photo: Photo: Sail Training International.
Tall Ships Race comes to Aarhus
The big race for large sailing ships will in 2007 reach the city of Aarhus.
Read more about this event.
---
Erantis is a guide to information to culture, environment and life.
The media is under development. Please visit this page later for more information.
Editor: Michael Borgen, phone: (+45) 86 12 77 66