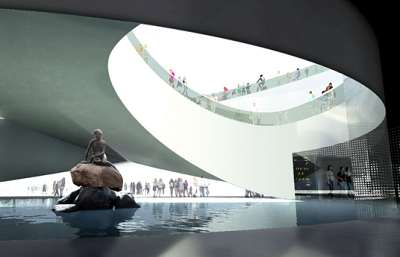 The inside of the EXPO pavilion from Denmark with The Little Mermaid.
Many countries have been working hard to catch attention at their pavilions at the spectacular EXPO World Exhibition in Shanghai 2010. In this competition Denmark has pushed in the most famous tourist attraction - The Little Mermaid - which is send to Shanghai and will not be possible to see in Copenhagen for half a year while the EXPO is running.
Anyhow The Little Mermaid will feel home even in Shanghai since she will be placed in a middle of a pool with a million liters of seawater brought to Shanghai by ship from the Harbour of Copenhagen. The idea is to illustrate that the water in the harbour is clean enough for swimming. However the EXPO-guests will only be allowed to cool down their feet in the 4-5 meter deep water - but not swim. A smaller shallow pool will be set up for children to play.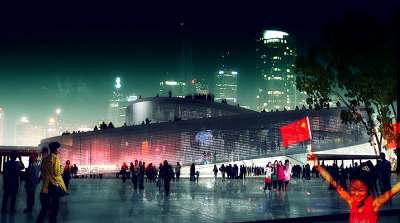 Illustration of the Danish pavilion by night
The theme of the Danish EXPO pavilion is Welfairytales focusing on the idea of a welfare state - but also a sustainable city life with clean technologies, bicycles and clean water in the sea.
The design of the pavilion is a big loop with a wide path for the visitors to enter the top of 12 meter high building. Bicycles will be offered for visitors who will use to enter the roof of the building where it will be possible to bring tradition Danish smørrebrød - bread and butter - the most famous of traditional Danish food.
The Danish Pavilion has an area of 3000 m2 and is placed on the Pudong side of the EXPO close to other Scandinavian pavilions in Zone C where the European pavilions are placed.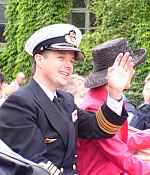 Crown Prince Frederik
The Danish Crown Prince and coming King Frederik is protector of the Danish EXPO pavilion and is expected to visit the pavilion. The organizer is of the pavilion is the Danish EXPO Secretariat.
The National Pavilion Day of Denmark is 29. of June 2010.
The Danish pavilion is designed by Bjarne Ingels, founder of the architect group BIG in cooperation with the 2+1 bureau and Arup engineers. The budget of the building was 150 million kroner (aprox 20 million Euro). The largest budget ever for a Danish EXPO pavilion. See description of the architecture of the pavilion in ArcDaily.
Apart from the national pavilion Denmark is represented at EXPO by the city of Odense in the Urban Best Practices Area. Outside the EXPO area Denmark and the other Nordic countries have exhibition in Nordic Lighthouse not far from The Bund in the centre of Shanghai.
See pictures from the event when the former Danish ambassador Mr. Christoffer Bo Bramsen opened the pavilion for preview.
Initiated by the former mayor of Copenhagen, Ritt Bjerregaard, is working on the idea the Copenhagen should host the World EXPO in 2020. .