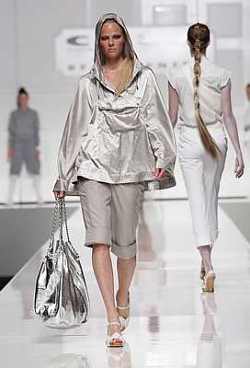 Catwalk at CIFF in the bella Center during Copenhagen Fashion Week. Photo: Claus Starup
Through the years the Fashion Week in Copenhagen has grown larger and larger and today it is one of the bigger events in the fashion and textile business of Europe.
Fashion and clothing companies now come to Copenhagen from many places in the World to see the last creations.
Copenhagen Fashion Week takes places twice a year - in February and August. Next time it will be:
8th - 12th of August 2017
30th of January - 3rd of February 2018
First of all the Fashion Week is organized for professionals in the fashion business and many of the events in these days are closed the public. In the last years however more have been done to make give the citizens and private visitors of Copenhagen a special experience when in the days of the big fashion fairs. Now more of these events are branded as the Copenhagen Fashion Weekend.
The professional Fashion Week consists of several fashion fairs on different places in Copenhagen. On top of that many organizations and fashion houses organize special events and presentations spread all over the city.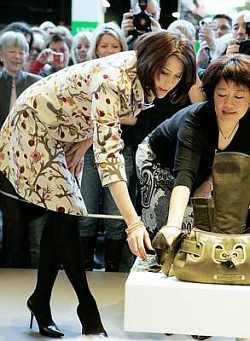 Crown princess Mary (left, married to Crown Prince Frederik of Denmark) visits CIFF and some of the other fairs almost every year. Photo: Claus Starup
The larger professional fairs in the Copenhagen Fashion Week are:
CIFF
Copenhagen International Fashion Fair
Is held in the Bella Center. CIFF is the largest fair of the Fashion Week and is very broad in with many different kinds of textiles and accessories. CIFF is a closed FAIR for professional. Read more
CIFFKIDS
Also in the Bella Center and is in many ways a physical part of CIFF. Only CIFFKIDS is a special exhibition of Children's clothes exclusively. Read more
Revolver
Is held in Øksnehallen - not far from the Central Station and Tivoli in the Centre of Copenhagen. Revolver is - like the former fashion fair CPH Vision - often considered to target the younger customers. Also this fair is closed to the public. Read more
Gallery
The most recent of the larger events. Gallery is a closed fair with focus on design and the newest trends. Gallery is held in
Forum
Julius Thomsens Plads, 1925 Frederiksberg C.
Copenhagen unfair
An open event with a wide focus on design and art. The goals are to combine fashion with art, film, music ... etc. Copenhagen unfair is held in Copenhagen Skatepark.
Enghavevej 80
1674 København V
There is a free shuttle bus going between the larger fairs during the Fashion Week.
Click on the arrow to see trend show from CIFF (Youtube video)
Read more about the Copenhagen Fashion Week organized by the Copenhagen Fashion Institute.
Read more about Copenhagen