The largest fair- and conference centre in Copenhagen is the Bella Center just outside the city of Copenhagen.
The centre offers an indoor area of 121.800 m2 suitable for both fairs and larger conferences. Among the larger events in the Bella centre is CIFF - the Copenhagen International Fashion Fair held twice a year - in February and august as part of the Copenhagen Fashion Week.
Also larger political events are organized in the Bella Centre. In 1995 the Bella Center hosted the World Social Summit for Social Development. Also in 2002 the important EU summit for the enlargement of the European Union was held in the Bella Centre. In 2009 the Copenhagen Climate Conference is also planned to be placed in the Bella Center.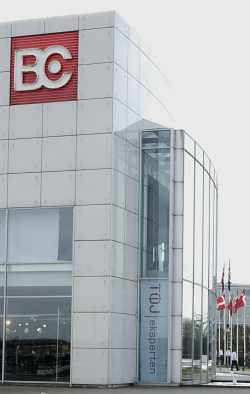 The Bella Center is conveniently placed only 10 minutes by car from Copenhagen Airport and can easily be reached from the centre of Copenhagen.
Bella Center is placed on the island of Amager which is connected by a bridge to Sweden so participating in events at the Bella Center it is possible to stay in a hotel in Copenhagen as well as the city of Malmö in Sweden. From both Denmark and Sweden there is convenient transport to the exhibition centre.
On the Danish side alone there are more than 10.000 hotel rooms in the surroundings of the Bella Center. On top of that Malmö also offers hotel rooms from where the Bella Center easily can be reached.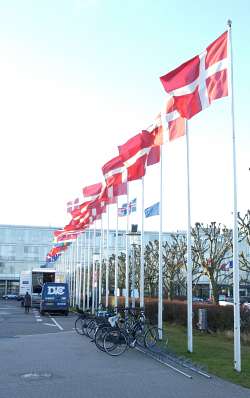 Transport to Bella Center:
Metro: There is a Metro station at the Bella Center. Use the Metro line M1 from stations in Copenhagen city. If you come from Copenhagen Airport in Kastrup you will use the M2 line and change to M1 at the Christianshavn station. From here you choose M1 towards Vestamager.
Train: Regional trains from Copenhagen and Malmö stop at the train station Ørestad nearby the Bella Center. From here it is possible to change to the Metro M1 - going only one stop to reach the Bella Center. Please note that Intercity trains from the airport do not stop at the Ørestad Station.
Taxi: The distance to the center of Copenhagen as well as the Copenhagen Airport is 10 - 15 minutes. The price for the taxi is less than 200 kr (a prox 25 Euro).
Bus: Bus line 30 goes from Central Train Station directly to Bella Center (20 - 25 minutes). From other parts of Copenhagen the line 4A can be used.
Address:
Bella Center
Center Boulevard 5
2300 Copenhagen S
Denmmark
Phone (+45) 32 52 88 11
Homepage