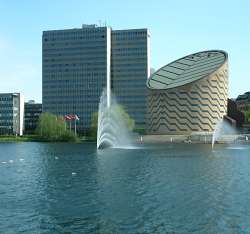 Scandic is the largest chain of hotels in Scandinavia and has 8 hotels in Copenhagen. Here the Scandic hotel (left) next to the Thycho Brahe Planetarium in Copenhagen (right).
Traditionally Copenhagen is not an important tourist city like larger European capitols as London or Paris, so to find a hotel when larger events are taking place can be difficult. Anyhow more and more hotels are opening.
To find a cheap hotel in Copenhagen is even more difficult. In regular hotels it will hardly be possible to find single rooms for less than 500-600 kr.(70-80 Euro) and 600-700 kr. (80-90 Euro) for double rooms.
If it needs to be cheaper it can be an idea to look for Bed & Breakfast or a bed in a Youth Hostel. But also Bed & Breakfast are not as common as in many other places of the World, and don't expect it to be very cheap. 300 - 500 kr/night (40 - 70 Euro) is not unusual.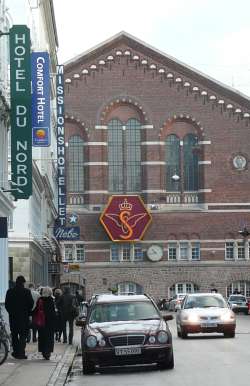 Behind Copenhagen's main train station "Hovedbanegården" there is a large number of hotels in different categories
To decide where to stay offcourse depends on the purpose of the stay in Copenhagen. Participants of conferences and fairs will often need to have easy access to the Bella Center or other exhibition centres. In this case it might a good idea to find a hotel close to the metro or the S-train system. Ask at your potential hotel for the distance to the closest station. (often they might inform on their homepage).
Being a downtown tourist it rather will be a good idea to look for a hotel not far from Tivoli or the pedestrian shopping street "Strøget". The highest concentration of hotels in the centre are to be find in the area behind main train station in Istedgade and the surrounding streets in the "Vesterbro" area. This area does not have the rumour of being the most fashionable of Copenhagen (traditionally the area for sex shops, drug-dealing etc), but the area is developing fast getting more trendy and has the advantage of being only 5 - 10 minutes walk from Tivoli and other central places. There is a number of different hotels in this area.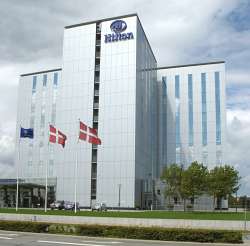 The Hilton Hotel is placed just beside Copenhagen Airport in Kastrup.
Some classic high-end hotels are placed at the other end of the shopping street Strøget near Kongens Nytorv, Nyhavn and the Royal Theatre - not far from the royal palace Amalienborg. The most famous among them is Hotel D'angleterre - often the first choice for presidents and rock stars visiting Copenhagen.
Hosting the main airport for the airline SAS, Copenhagen also have three Radisson Hotels of which the Royal Hotel is the most famous - placed only a few minutes walk from Tivoli and the shopping street Strøget.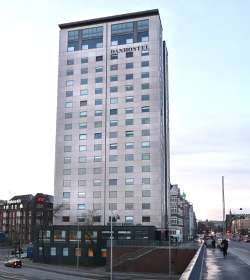 The large youth hostel Danhostel Copenhagen City has more than a thousand beds and offers short distance to the centre and an exceptionally good view over Copenhagen Harbour with the new Opera House.
If you can't find a reasonable hotel in the city centre the second choice may be to find a hotel further away. Here it might be a good idea to look for hotels close to the S-train system. If this is not possible either, it can be realistic to find a hotel in the surrounding towns like Roskilde where regular trains go to Copenhagen (less than 30 minutes).
Another possibility is to find a hotel in Sweden. With the new bridge between Denmark and Sweden the city of Malmö is not far from Copenhagen and there are regular trains between the two cities every 20 minutes. Both Denmark and Sweden are Schengen countries, so passport and visa is not a problem. Malmö is only 35 minutes by train from Copenhagen and just as close to Copenhagen Airport as Copenhagen itself. Just be sure to find a hotel not far from the train station in Malmö.
More and more hotels in Copenhagen are seriously trying to push their hotels and restaurants in a more environmentally friendly direction. Especially in connection to the Climate Conference in Copenhagen more hotels have shown interest in green hotel concepts.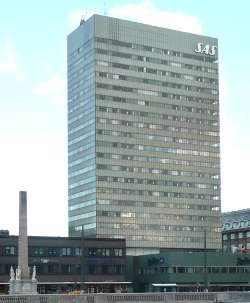 The SAS Radisson Royal Hotel is one of 3 Radisson Hotels in Copenhagen
Almost 50 hotels are certified according to the socalled Green Key criterias, others have chosen to focus on being CO2-neutral. Among them the hotels of Fox, Ibsens, Kong Athur and Hotel Alexendra. Also the largest hotel chain Scandic is developing in direction of more environmentally friendly hotels of which the majority now are marked with the Nordic Environmental Label "The Swan Label". Other hotels have focused less on labeling but still have been working hard to be more environmentally friendly, serving organic food etc. Among them the hotel chain Guldsmeden having the hotels Axel, Bertram and Carlton - all placed on Vesterbro in central Copenhagen.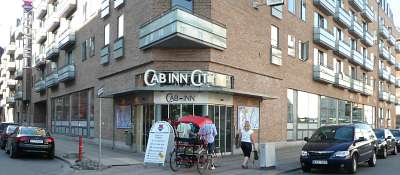 This centrally placed Cap Inn City is part of the fastest growing hotel chain in Denmark. They all offer modern but cheap accommodation. No luxury suites - but ensuring the most fundamental demands for visitors like free internet, shower and TV.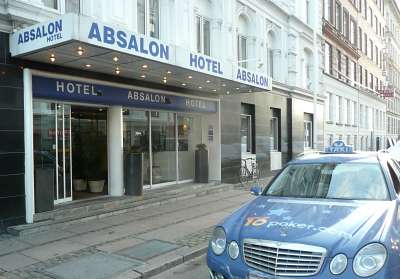 Hotel Absalon is a family hotel placed in the hotel-area of Vesterbro only few minutes walk from Tivoli, shopping areas and other only s